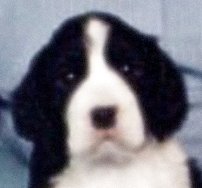 Serenity Kennel's goal is to produce an English Springer Spaniel with correct conformation, easy trainability, and good health.
Most importantly a loving carring friend!
We do this by ensuring that all our breeding stock meet the following criteria:
First, we ensure both parents have excellent temperments, a dog that is easy going and a joy to be around. The correct Springer temperment includes an out going personality, a drive to please it's owner, and a laid back disposition.
Second, we ensure the parents are easily trainable. Intelligence is an important breed charcteristic. All puppies must go to training class. Where you will notice they have a very high drive to learn obedience.
Third, the parents meet the breed's conformation standards. Most parents here at Serenity Kennel have multiple Championships in AKC, CKC, & UKC. Therefore, the puppies are exceptional specimens of the breed.
Finally, all puppies at Serenity Kennel are healthy. Puppies come with their first three boosters of DHLPPtCv, bordetella, and eye Cerf. Also, depending on the weather they will recieve heart worm preventative and Frontline.